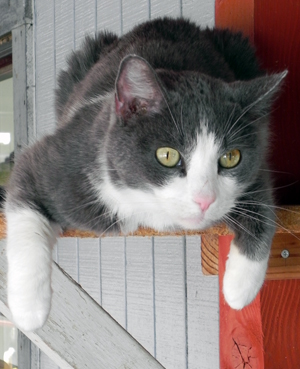 Volunteers are the backbone of the Shelter, and are needed throughout the year for a variety of daily activities, programs, and events, including the following:
Cat Socializing
Visiting with, grooming and playing with adoptable cats to ensure their socialization and to help new arrivals overcome relinquishment anxiety or depression. This helps keep kitties active, used to being handled, and aware that they are loved.
Cat Bathing/Grooming
This position involves bathing and grooming the cats so that they feel good, look good and are ready to go home. Note: This position requires proof of experience, and placement is at the discretion of our medical staff.
Grounds and Building Maintenance
Helping with on-site building maintenance and grounds keeping projects (planting, weeding, cleanup, painting, construction and repairs as needed).
Public Events, Publicity, and Fundraising
Donating time or special skills to assist with special-events fundraising, publicity, our newsletter or updating our website, and/or public outreach and educational activities at numerous community events both on- and off-site, such as cat shows, public adoption events, including helping with set-up and tear-down of booths and equipment and cat transport. We especially need help with website maintenance of our page at www.adoptapet.com
Daily Shelter Housekeeping Tasks
Help maintain cats' health and welfare by laundering and folding blankets, towels, and linens used to provide comfortable bedding for the cats, or keeping kennels and litter boxes clean and sanitized.
Greeting Visitors
Represent the Shelter by helping visitors tour the facility, find a new kitty, or assist with relinquishing a cat. Also inform visitors of our available volunteer opportunities.
How To Volunteer
Volunteering is rewarding for both you and the cats. Volunteers are welcome during business hours, Tuesday-Sunday from 10:am-4:00pm. Please call the Shelter at (619) 561-0361 EXT 1 if you can help, or return the volunteer application and signed volunteer guideline. You may also e-mail the shelter at info@friendsofcats.org.
Click here for the Volunteer Application
Click here for the Volunteer Information Sheet and Guidelines